September 1st, 6th, and 8th @ 11AM PST
[FREE] 3-DAY LIVE EXPERIENCE
Learn the invisible elements that allow you to communicate on such a deep level that it automatically pulls in your ideal audience and creates demand without having to create a ton of "How To" content.
If you're an unheard entrepreneur who KNOWS they're good at what they do and can help people but no one pays attention you NEED this 3-day LIVE Experience...
PLUS, IT'S ABSOLUTELY FREE!

WE WILL TRANSFORM YOUR MESSAGING AND CONTENT IN 3 EASY PHASES:
Shifting Out Of The Unheard Entrepreneur Trap
Clear Messaging That Attracts and Creates Demand
Engaging Content That Builds and Sells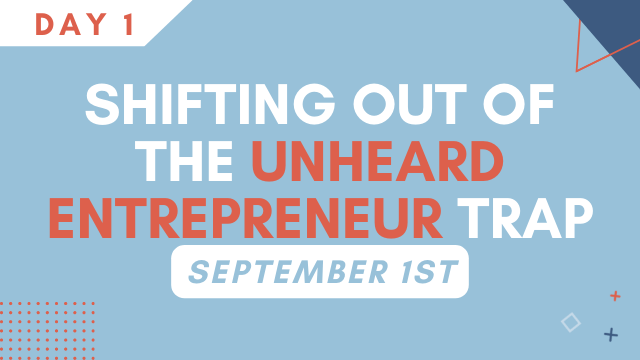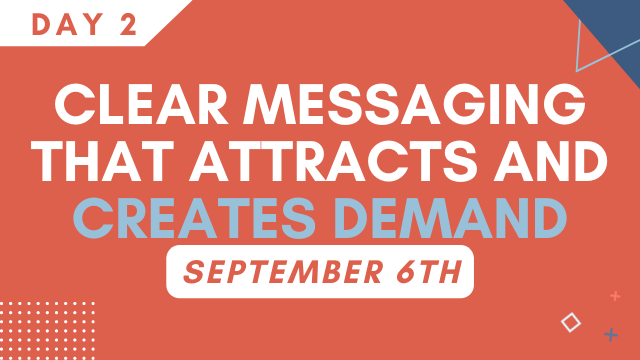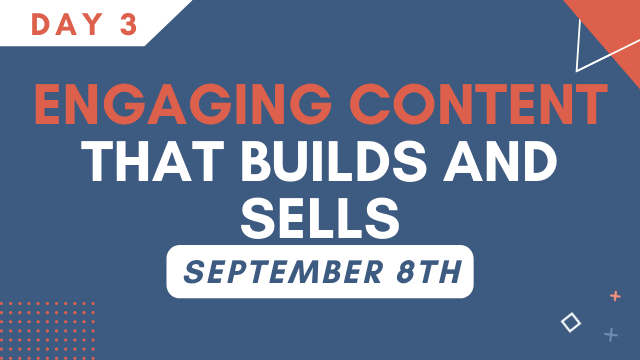 IF YOU'RE EXPEREINCING ANY OF THE FOLLOWING PROBLEMS THEN...
THIS 3-DAY TRAINING IS DESIGNED FOR YOU:
1) Plateaued for more than 3 months in sales or audience growth and 70% or more of your content is "How To" based (Even 6 and 7-figure entrepreneurs will plateau).

2) You know what you do and how you can help people but never find a CLEAR way to communicate it.

3) You're putting out VALUABLE content that you know is good and can be helpful but seems to get ignored by everyone.
4) Hardly anyone shows up to your webinars and challenges even if you get some traction with your content.
5) You can get some views and followers but the sales never come in. People just don't seem to understand why they need your program and are never waiting to buy.
6) You never get people DM'ing you asking how to work with you
7) You feel like you don't know how to sell and it feels very awkward. You haven't realized content should be selling and adding value and you haven't found a way to do both at the same time.
8) Everyone pays attention to your competitors even though you're different, better, or the same as them.
9) It Feels like you understand what to do but it still doesn't work. You're missing something invisible.
10) You don't seem to connect with your audience and you likely give them what they want instead of embracing who you are.
11) When creating content you don't focus on real connections based on values, beliefs, and identity. (look at your best friend, you likely connected automatically and I am willing to bet you connected because of a shared value, belief, and identity but you never do it in your content).
.... and there is more but let's stop there for now.
THESE ENTREPRENEURS WERE ALSO EXPERIENCING MESSAGING AND CONTENT PROBLEMS BEFORE OUR TRAINING.
NOW... IF YOU ARE EXPERIENCING ANY OF THE PROBLEMS LISTED ABOVE THEN YOU ARE LIKELY MAKING 1 OR MORE OF THESE MISTAKES:
+ 70% more of the content you put out is education-based.

When you put out educational content it is mostly done as tutorials because you haven't learned or you're not aware that there are other ways to teach that are more engaging. (Ex. TedTalks)




+ When creating content you hardly even think about how to create desire or demand for what you sell.


+ You try to do more content in order to get people to pay attention and haven't realized more of the same thing that caused you to blend it won't help.



+ You focus more on the strategy around content and posting than what you're saying in the content or titling the content.




+ Focus more on entertainment than demand and persuasion.




+ You add value by giving instead of removing beliefs or shifting perspectives.




+ You haven't realized adding value could be done through shifting a perspective, just as a good book does or a TED Talk does.




+ You survey your audience for content ideas and let them control your message. Instead of remembering you are the light that attracts the audience. The biggest people like Mel Robbins, Gary V, etc don't ask you what you want for a reason. They create messaging that is authentically them and let it attract the people most like them but they can also connect it to an offer.
THAT'S WHY TRAINING IS PERFECT FOR YOU. YOU'LL LEARN:
+ The invisible messaging elements that your competitors aren't even aware of
+ How to craft a demand-creating messaging ecosystem
+ Creating unique and engaging content structures
+ How you can get your content out into the world for quick exposure and growth
The thing that so many online entrepreneurs don't understand is messaging and content are different.


Messaging fuels content but most people focus on the content and never on what they are saying.


That would be like writing a book with tutorials expecting it to be a best-seller but the best-selling non-fiction books never do that. They communicate in a way that doesn't require people to think but it gets them to automatically feel "I need this" or that was "mind-blowing".
We want to gain control of our message and not give it away to our audience by doing everything they want.
Content and messaging should be engaging and able to give ah-has, but also be creating demand for what you sell.
And that's what I'm going to help you with over these three days!

Access to a closed pop-up Facebook Group with bonus Facebook Lives, a worksheet to help you get the most out of the workshops, & prizes!

Q&A opportunities during the workshop sessions
September 1st, 6th, and 8th @ 11AM PST
FREE 3-DAY LIVE EXPERIENCE
Learn the invisible elements that allow you to get clear and communicate on such a deep level that it automatically pulls in your ideal audience, adds value, and creates demand without having to create more and more "How To" content.